On March 12, 2020, I hosted my last West Coast Swing class before the COVID pandemic completely shut down our dance lessons for six months. During the interim before our return, I hosted video socials on Zoom every Thursday night, where members of our dance community played West Coast Swing Bingo. While we couldn't dance, we maintained our social connections.
Restarting West Coast Swing
In September 2020, I reopened our dance classes with solo dance lessons, but within a month, students indicated that they were ready to resume partner dancing. In October 2020, our West Coast Swing classes started again with safety measures in place. Remember, this was before a vaccine had been released.
Removing Masks (The First Time)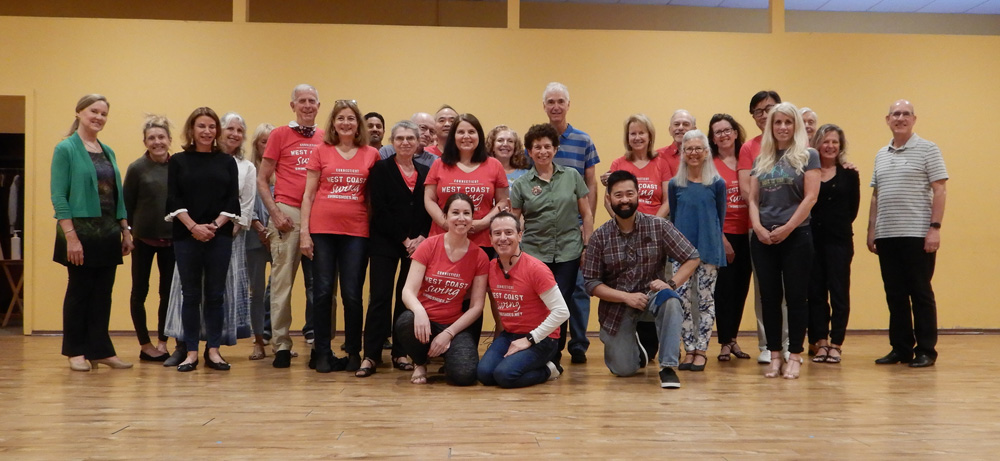 In June 2021, I changed the requirements to attend our West Coast Swing classes by requiring students to be fully vaccinated. I was pleasantly surprised that almost all of our students eagerly presented their vaccination card, and the students that weren't vaccinated at that time got vaccinated soon after. Additionally, that month, we were able to remove our masks and resume normal dances and workshops through the end of July. I was able to feel comfortable about removing the masks because it was allowed by the city of Norwalk and the hospitalization rate had dropped to a level that indicated that COVID was not spreading as quickly—110 hospitalizations in Connecticut.
Masks Again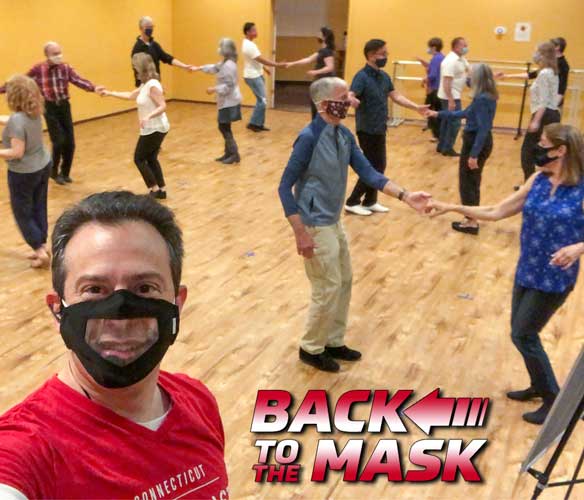 In August 2021, two months after we were able to dance without masks, we had to use our masks again because of the rising COVID rates and hospitalizations in Connecticut. We have continued to use masks through to present day in order to keep our dance community safe. At this time, we have had zero cases of COVID transmission in the studio. This record of safety has been in clear contrast to other dance studios and events which applied a mask-optional policy while hospitalizations were still high, resulting in dancers posting online about how they tested positive for COVID directly after the event.
2 Years Later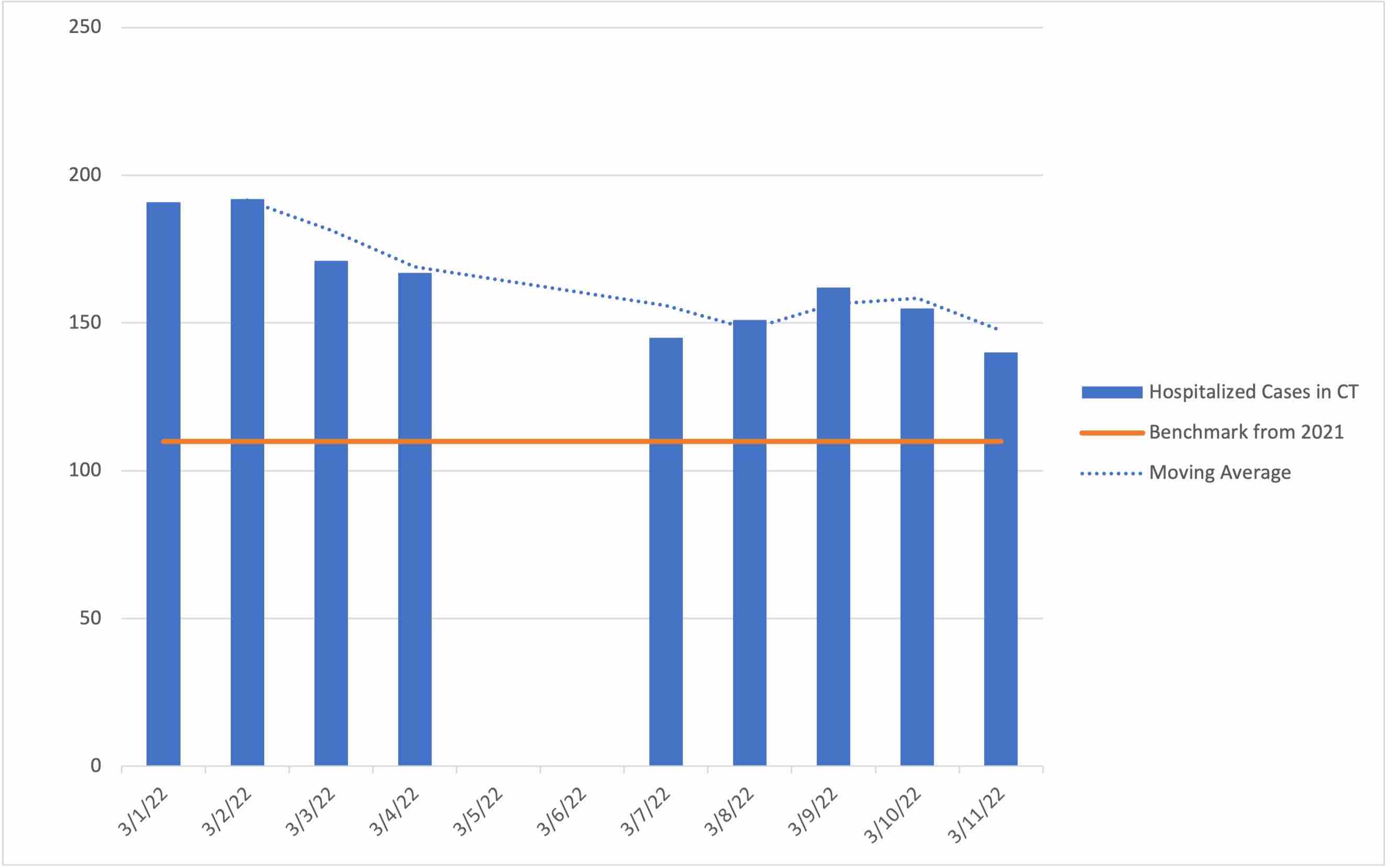 Hospitalized Cases in Connecticut from March 1-11, 2022
And here we are, a full 2 years after we put dancing on hold so that COVID could circle the globe with ripple effects. Since the latest Delta and Omicron variants, the hospitalization rate is plummeting back to levels that allow us to consider permitting dancers to de-mask if they choose, resume serving food and drinks, and resume social dancing.
Here Comes Spring and Summer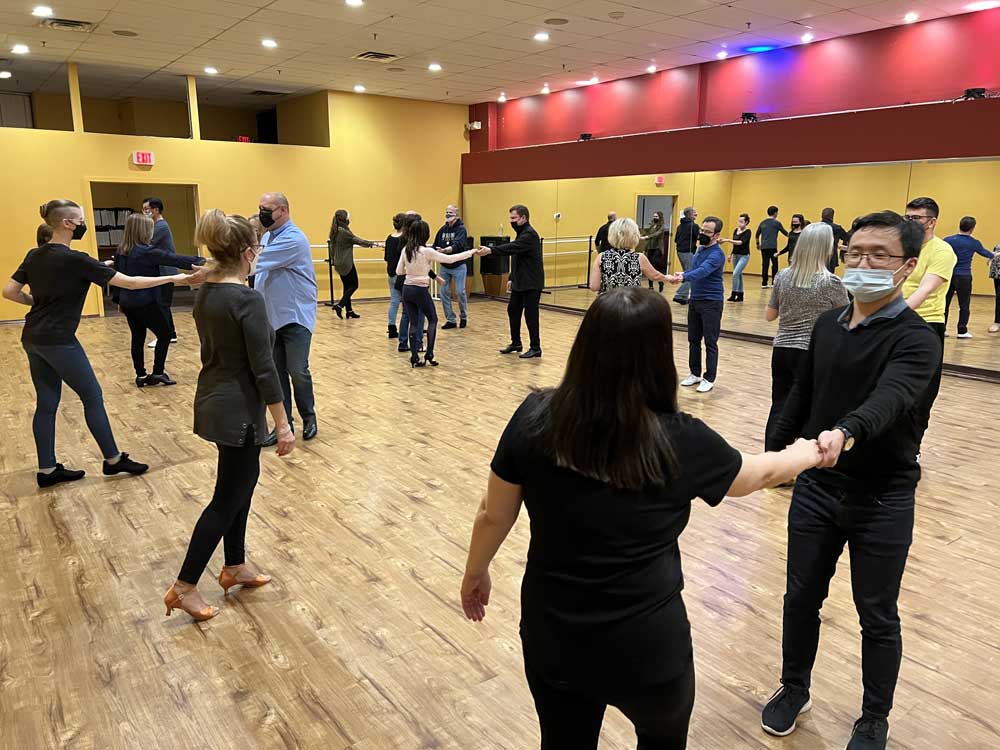 West Coast Swing in Norwalk, CT on March 10, 2022
We are in a much different place than we were two years ago because we understand the virus better, all the students are vaccinated and almost all of the students are boosted, and we have clear policies that have demonstrated their effectiveness. I am looking forward to our upcoming spring and summer months so people can come out to play in our friendly dance environment.