Private Lessons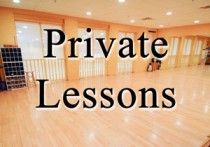 Improve your dancing in the shortest amount of time
Private lessons are one of the best ways to improve your dancing in the shortest amount of time. Private lessons are designed to give you individualized attention to your dancing.
There are many details that can not be truly explained or understood in a group class, these details are explained in a private lesson. Such things as connection, timing, technique, musicality and spins and turns can be clarified at your own tempo.
Are Private Lessons necessary?
I have never met a serious dancer who did not have private lessons as part of their dance regimen. Some people need sporadic guidance to refine things that are going well, others need weekly assistance to learn the most amount of information quickly. Remember: practice makes permanence (not perfect)....if you learn it right, you'll have a better chance at doing it right.
How long is a lesson?
Private lessons last approximately 1 hour. Many people schedule them weekly for intense improvement or wedding choreography, monthly for assessment and improvement or sporadically for those who live outside the area and are looking to augment their learning. Lessons progress as quickly or as patiently as you need.
How many people can take a private at the same time?
Generally, lessons are for one person or a dance couple (either wedding, competitive partnership or just friends who like to dance together). However, as many as 4 people can reserve a group-private lesson.
---
Single Private Lesson in West Coast Swing, Hustle, Salsa, or Nightclub Two Step with Erik Novoa. This lesson can be for either one or two people.