Stardust Debuts
Last Saturday (just over 24 hours ago), Anna and I debuted 2 of our new routines during the Stardust Dance Weekend. We performed with two other couples: Nikolai Shpakov & Tatiana Keegan and the legendary Billy Fajardo & Katie Marlow.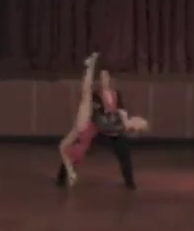 We were the third couple to perform. We opened with our new Hustle routine. I think the audience liked the black and red costumes and you could hear audible gasps when we showed our first lift. We rocked out our routine with drama, speed and power. It was a good start to our new competitive Hustle routine of 2011. We'll be competing it for the first time in one week at Disco America in PA.
After the intermission, Anna and I were the second couple to perform. We performed our West Coast Swing routine. Although this was not a new routine, it was our most smooth and polished routine. We have made some slight alterations to the routine that ironed out some creases that we had last year.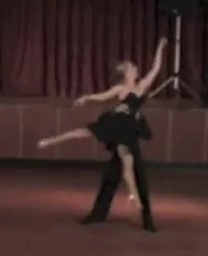 After our West Coast Swing, we had two and a half minutes to change our outfits to prepare to debut our new Cabaret routine. Anna and I were very excited to be performing this routine - we felt it would be a huge crowd pleaser. We were very pleased with how light we were able to dance. Our Cabaret to Tony Bennet's rendition of Favorite Things was in great levity to the Hustle sultry of Kesha's Take It Off.
All in all, we were extremely pleased and proud of our performance. We can't wait to continue polishing and performing these routines throughout the year.
Here's glimpse of what it looked like: