Kat Wildish in Dance Teacher Magazine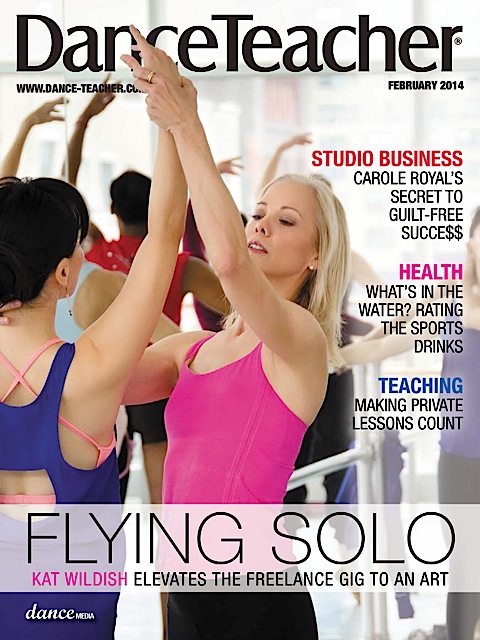 Although February 2014 is almost over, this month would not be complete if I did not acknowledge Kat Wildish as the front cover of Dance Teacher Magazine.
Kat has been a teacher and mentor to both Anna and me for our entire relationship. She has been a ballet teacher to Anna since 2005 and me since 2006.
Kat Wildish in Dance Teacher Magazine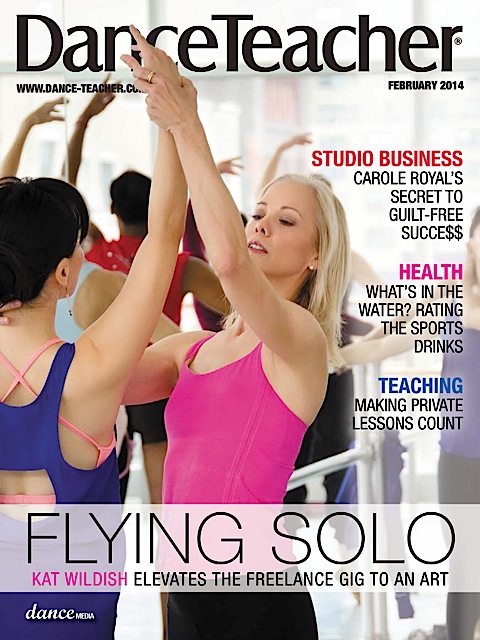 Although February 2014 is almost over, this month would not be complete if I did not acknowledge Kat Wildish as the front cover of Dance Teacher Magazine.
Kat has been a teacher and mentor to both Anna and me for our entire relationship. She has been a ballet teacher to Anna since 2005 and me since 2006.
Ballet is mostly for kids
Kat is a master ballet teacher in New York City and her influence on ballet education can not be overstated. You see, most people are introduced to ballet at a very young age. Parents put their daughters (yes, generally only the girls) in ballet class at an early age. From there many girls take ballet until their pre-teen years, where they either are gifted with a ballet-body, try jazz dancing, or turn into regular teenagers. Only a very few people ever develop into a performing ballet dancer.
Ballet for Adults
Kat Wildish is one of the few teachers that exposes adults to the wonderful world of ballet. Sometimes she gets to teach a true beginner and many times she continues that path that was abandoned years ago by those pre-teens who loved ballet, but gave it up.
Kat's former training and career with New York City Ballet gives her first-hand knowledge about technique and pedagogy that many other teachers just don't have. Her experience on one of the most-renown world stages enables her to coach beginners and professionals alike.
A boy who wished he had studied ballet
As some of you may know, my mother was a ballet dancer. You would think that she would have put me into a ballet class straight away. But it was my sister who she took to ballet. When I first expressed interest in dance, I was 15 years old. I loved Baryshikov and masculine variations, and pirouettes and I wanted to learn how to do them. But when I attended my first ballet class, I didn't know why were spending so much time at the Barre. I couldn't understand why we weren't learning the repertoire that was performed on stage.
Although I was frustrated with my initial experience with ballet, I still loved it, attended performances with my family, and required a girlfriend with experience/appreciation for an art-form that I revered. I continued my study of ballet in college and attended infrequent classes after graduation. But the realization that I was an adult was sobering. If you don't already know ballet, it's hard to find good classes as an adult.
Finding Anna, Finding Ballet
When Anna literally walked into one of my dances in May 2006, my life changed forever. She was the one! And she was a dancer. Actually, part of the reason why she was able to attend the dance at which me met was because she did not have rehearsal with Kat Wildish that particular night.
But when I told Anna that I not only liked ballet, but danced some ballet, she raised an eyebrow of doubt. I knew my claim would be put to the test. And a few months later, I attended my first ballet class with Anna, with Kat Wildish at the helm.
I knew that this would be a rite of passage, almost like meeting a parent or best friend, who would be protective of Anna but also welcoming if I passed the "test". I remember walking up to the barre, and Anna looking at me. I was wearing a white T-shirt and black tights - the classic look of a Kirov or NYCB dancer. I either knew what I was doing or at least knew how to dress the part.
Our first ballet class together with Kat Wildish
As the our first ballet class started, I knew that Anna was on home turf. Kat quickly zeroed in on me and asked my name. She gave me my first corrections which calmed me - ballet teachers only give corrections when they care about you. The class was great! My new girlfriend was in front of me, many other adults were all around me, I was 33, and Kat Wildish taught the most entertaining, technically knowledgeable, pedagogical ballet class I had ever attended.
The best part was that, the next day, I was sore in all the right places. I had never had a ballet teacher get me so high and so strong on my leg.
For years, Anna and I did everything we could to manipulate our schedules so that we could take Kat Wildish's ballet class in New York City. Of course, we tried other instructors, but we always returned "home" to Kat.
To this day, Anna and I still go from Connecticut to New York City to attend ballet class with Kat. The technique we learn is applicable to all of our partner dances. Our Hustle and West Coast Swing teaching and performing is better and stronger because of the ballet technique that we have received from Kat.
Our students perform Hustle and West Coast Swing in Kat Wildish's Performing in New York Experience
Kat Wildish is not only a former dancer with New York City Ballet. She is not only a master teacher with over 30 years experience teaching adults ballet in New York City. She has not only taught at some of the finest dance locations in New York City, including Broadway Dance Center and The Alvin Ailey Extension. Kat is also a producer a great conglomeration of dance called the Performing in New York Experience.
In this show she choreographs / re-stages a section from one of the well-known ballets for her students so they can perform on a professional stage. Along with her students she invites other well known choreographers who invite their students to perform in this great experience.
It is in these shows for the last 3 years that our Connecticut based Hustle and West Coast Swing students have performed. It has provided our dancers an opportunity to learn about choreography and the process it takes to create a concept and rehearse until it is stage-worthy. Our dancers perform in front of 250 people for 3 performances and always beg to do it again.
We get to do this because Kat Wildish has provided a great teaching environment for her students, a professional opportunity for her dancing friends, and a welcoming environment for others.
Kat Wildish continues do do great things
Recently, Kat has gone to Italy and Alaska to teach ballet to young students and inspire other adult dancers. Recently, she accepted a teaching position at at Pace University to expose students to ballet.
Kat Wildish is still a force to be reckoned with in the dance world. She can still out turn, out lift, out jump most dancers half her age. She is establishing herself as a producer of dance performances throughout New York City. And she is still one of the finest teachers of one of the hardest art forms that exists.
It has been a pleasure to take class from her, learn from her, laugh with her, and drink with her. If you're lucky, you'll get to know her too.
Check out Dance Teacher Magazine (February 2014)