September 11, 2001 - A decade later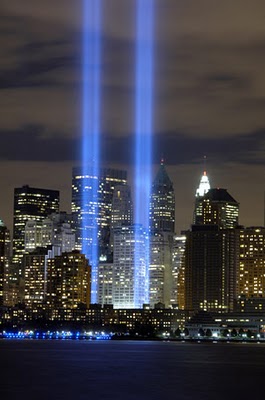 From the day that it happened, I have always wondered what it would be like a decade later. I was 28. I lived and worked in New York City. I grew up in New York City. September 11, 2001 was the craziest day of my life.
At that time, I was working at Cushman & Wakefield, the largest and most prominent commercial real estate company in the world. I had been dancing West Coast Swing about 3 years and Hustle 1 year. My partner Tami and I were at the top of our dance game with our classic routine "Fly Me To The Moon" (we had recently placed top 5 at SOS Grand Nationals in Atlanta, GA) and we were about to debut our first Hustle routine to a remix of "Oops, I did it again".
The Weather
Of all the things that I remember of September 2001, it was the weather for its clarity. We had some truly beautiful days - totally clear, crisp days. I took pictures of the changes of colors in the sky during sunsets (on Sept 1) and of buildings from Central Park (on Sept 8).
But, on the day of Tuesday, September 11, 2001 the sky was as crystal clear as it ever gets in New York City. The sky was a perfect blue and the temperature was Goldilocks perfect, not too hot, not too cold. That clarity of the sky would later have a very noticeable imperfection.
The days that followed also had impeccable weather....and it was silent. It's amazing when New Yorkers aren't driving around (NYC was on lock-down) and planes were grounded around the country. It was eerie.
I remember hoping for rain so that the fiery pit at the World Trade Center could be smothered by water. That rain wouldn't come until many days later.
To this day, when perfect weather rolls in and one can see to the edge of the horizon without a cloud in the sky, when the temperature is just right - I think of September 11.
The Day Before - Sept 10
September 10, 2001 was a regular, unmemorable day at the office. After going home, I grabbed my boom-box and went to rehearsal with Tami Harris. We were working on our revised version of Frank Sinatra's "Fly Me To The Moon" and also working on our first Hustle routine to Britney Spears' "Oops, I Did It Again", which had been freshly choreographed by Arte Phillips. Our rehearsal was from 7:30pm to 9:30pm.
After rehearsal, Tami and I decided to go to dinner and go for a drink at a bar on Eighth or Ninth Avenue. We stayed up pretty late that night. I mostly remember waking up late the next morning and feeling pretty hung-over.
Just Another Day in the Office
Running late
The morning of Tuesday, September 11, 2001, started with me waking up late and hungover for an important office meeting. As a commercial real estate broker for Cushman & Wakefield, we were required to attend a space tour presentation by another real estate company. That morning the other company was Murray Hill Properties where my mother was the leasing agent for 1450 Broadway, the building I was supposed to be touring at 8:30am.
My alarm clock went off at 6:45am but I didn't wake up until 8:40am. It would be nearly impossible to make it on time to any part my mother's presentation. Even if the meeting went to 9:15, I'd barely make it. I jumped into the shower and when I got out, I turned on the television, as I did customarily to watch my morning news.
I was brushing my teeth when I heard that a plane had crashed into the World Trade Center. I remember backing out of the bathroom, toothbrush still in my mouth, to see the footage on NBC of the hole and smoke coming out of the 93rd floor of the tower. I figured a pilot must have fallen asleep during an early-morning flight, probably lulled by the clear blue skies - just as a baby is rocked to sleep by a moving car. I shook my head and continued getting ready.
I was out of my ninth floor apartment at 59th Street and Ninth Avenue by 8:50am. If all the trains ran normally, I'd still make it to my mother's presentation.
I exited the subway at Times Square at 9am and briskly walked to 41st Street & Broadway, the cross-streets for 1450 Broadway. I arrived to my mother's presentation at 9:05am. I greeted my mother and other brokers on one of the balconies where everyone was looking at the top of the World Trade Center billowing smoke.
My mother said to me that it had just happened - but I told her that I had seen it on the news almost twenty minutes earlier. She insisted that it had just happened; I was confused. We both had no idea that we were talking about two separate occurrences. I took a picture of the incredible moment.
Walk back to the office
After seeing the building that my mother was representing, I walked back to Cushman & Wakefield's main headquarters at 53rd Street & Avenue of the Americas. On the way back, I saw a man in a suit running south on Broadway screaming "those m***ther f#$@kers...". I assumed he was talking about what was going on at the World Trade Center, and I wanted to tell him that it was just a pilot who was lulled to sleep by the good weather. I didn't know any different at the time.
Black Rock
Black Rock is the urban name of the building where Cushman & Wakefield has their headquarters. Its known address is 51 West 52nd Street and was also the national headquarters for CBS.
I arrived to Black Rock at approximately 9:30am. Upon arrival, news of what was happening was starting to buzz around the office. I was told that not one, but two planes had hit both towers of the World Trade Center. My body started to fill with adrenaline as I realized that something terrible was happening.
With an odd feeling in my heart, I pulled up the computerized listing system of both towers of the World Trade Center. I started a print out of the tenant roster of both buildings. I must have known that list would change forever.
While awaiting my print out of the tenant roster, my cubicle colleague, Andrew Ross, told me that Washington DC had also been hit. The entire day was starting to fall apart as people in our office tried to maintain a professional manner even though some of our clients were probably part of the casualties.
The Collapse
At about 9:57am, I went into the office of one of the biggest brokers in New York City. I had never been into his office before, it was a place that you wouldn't enter without an invitation. However there were others in this room, some standing, some sitting. It was one of the only rooms with a television, a small 10 or 12 inch TV. We were all glued to it.
I was only there a few minutes when there was a large puff of smoke on the screen. People started yelling that the tower had come down. I didn't believe it, I thought it was just an explosion. To this day, I could swear that I saw the tower behind all that smoke.
But as the smoke cleared a bit, my illusion turned into a horrible reality. The tower had indeed collapsed.
Time Accelerates
As with any other emergency situation, time accelerates and time slows down. I assume it's our nervous system's fight-flight mechanism.
I can't remember how long I stayed at the office after watching the towers collapse. I probably wanted to stay put, but I also wanted to go home. At some point around 11am, I started walking home.

I was feeling ill. My eyes just couldn't process the images that they had seen. The day was so beautiful and so dark at the same time. One block from my apartment, on the corner of 58th Street and Ninth Avenue, I couldn't take it any more. I grabbed a tree with one hand and vomited in between two parked cars. I couldn't believe it. I was so emotionally charged that I threw up, one block from my own home. I stumbled the remaining distance, walked past my doorman, took the elevator to my 9th floor apartment and turned on the TV.
The cable was out from the collapse of the Twin Towers, but I was still able to get reception from certain stations. The stories and footage were surreal. I curled up in my bed with a massive headache and the rest of the afternoon is almost a blur.
The Strangest Night
That evening, I invited my mother to come over. She wasn't able to leave Manhattan to go her home in Connecticut before the city was locked down. I also invited my dance partner, Tami to come over. Together we did the unthinkable. We went out to dinner.
Only in New York City could you have a tragedy like 9/11 unfold and still have people who will go out to dinner. Many restaurants and businesses were closed, but a surprising number of restaurants were open. And, they were crowded. People needed a place to go, a place to gather, a place to escape. For Tami, my mother and me, it was a sushi restaurant close to Lincoln Center.
Days After
The following days were only an attempt to get back to normalcy. I walked around my neighborhood and took pictures. Lincoln Center had large American flags hung from their white, marble columns. When I finally drove to Brooklyn a few days later to visit my girlfriend, the ashes from Ground Zero were still smoldering. I took pictures from the sunroof of my car.
During these days, one of the scenes that affected me most was the entry to the emergency room at Roosevelt Hospital. Roosevelt Hospital was on the same block as my apartment - it had many missing persons fliers. It was heartbreaking and brought me to tears every time I saw it.
As a real estate professional, the team that I was on at Cushman & Wakefield helped relocate one of the tenants affected in the World Trade Center to a sublease that I was representing at 11 West 42nd Street.
Dancing
Although I can not remembering rehearsing any more that month. Tami and I debuted our first Hustle routine together at Hustle USA two weeks after. I remember wondering if Hustle USA would even take place, especially since so many people would be fearful of boarding a plane to New York City.
But Hustle USA did take place. The New York City hustle dance community came together to support each other. We needed to feel that life could go on, that we weren't defeated and that we wouldn't stop dancing even in the face of fear.
From the photos of Hustle USA's Saturday night show to "Slave to the Rhythm" - a tribute to Eddie Vega, choreographed by Arte Phillips - one would never know that such a tragedy had occurred only a couple of weeks prior.
That was also the same night that Tami and I performed our first Hustle routine together, "Oops, I did it again" (choreographed by Arte Phillips) and ended up winning that national competition.
Two weeks later, Tami and I flew to San Fransisco for the West Coast Swing event, Boogie By The Bay. Although I know that Tami and I competed our "Fly Me To The Moon" routine, I don't remember it at all. What I do recall is that all the New Yorkers at the event wore NY shirts (something with either a NYC logo or NYPD or NYFD logo). Wearing those shirts meant everything to me. I felt part of a local and national dance community.
The US Open Swing Dance Championships in November 2001 also brought the West Coast Swing community together. The red-white-blue theme gave us purpose.
Great Sadness
It is now exactly a decade since the tragic day of September 11, 2001. I still feel great sadness over such an amount of loss. I was fortunate enough not to know anyone directly who died on 9/11.
On that terrible day, the New York West Coast Swing community lost one of their favorite locations to dance, Window On The World at the top of the World Trade Center. It was in that location that I went to my first West Coast Swing dance.
The World Trade Center was also part of my childhood memories in New York. I had been brought to the Twin Towers by my parents since I was a little kid. It was a place where we would take relatives and visitors to our city.
Life Moves Forward
With all these revisited emotions comes a realization. Life moves forward. We can not live in fear. Our human psyche seems to be designed to be able to put some of these traumas in the background so that we can continue living. Now, looking back, I feel that dance helped me overcome many of the emotions I experienced. It gave me a purpose and a reason to put the trauma behind me and appreciate the life that I was living.
On this, the tenth anniversary of the attacks of September 11, 2001, I have many things for which I am thankful. I love my parents, my sister and her family, and especially my wife. I am happy that no one in my dance community perished. Life moves forward.
I still remember the first email I received from a concerned friend that day - it was Tom Gendrachi, a West Coast Swing dancer from CT.