Swingin New England 2014 - Review, Placements, and Pictures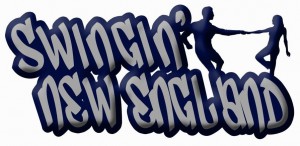 So what makes the best dance event for you? Is it the social dancing, the competition, the time with friends, the lights, the sound system, or the floor?
I've been on the competitive circuit for the last 16 years. Although I've attended events throughout the United States, the majority of the dance events I have attended have been on the east coast. I have fallen in love with small, first time events and have been in awe of big, well established events. I have traveled to events by myself, with dance partners, with friends, with girlfriends, and with my wife. I have been in the Novice division and I have been in the Invitational division. So, after a decade and a half of attending events, it was hard to say what makes an event the best…until last weekend.
Last weekend we attended Swingin New England, as a family. It was my first time attending an event with my daughter, a 5 month little girl who isn't worried about her technique, or her points, or who else would be attending. Of course, she might have had no idea that we were going dancing, but I hope I'm not projecting when I say that she could sense some excitement from Anna and me that we were traveling together.
Ready to travel to her first West Coast Swing event
We had hoped to bring Charlotte to Vermont Swing Dance Championships, another friendly dance event in the New England region. Unfortunately, Charlotte was not a good traveler at that time (silent reflux) and we were not sure that it was a kind thing to do. After finally working with Charlotte on her travel abilities, we were confident that we would be able to drive together to the friendliest Massachusetts' West Coast Swing event in the fall season.
But first, lunch
Our first stop was at Brueggers Bagels. A regular stop for us to grab some food on our drive north. But this time, we arrived with a hungry baby. Which means she eats first. Anna and I joked on how we've "grown up" and passed into the realm of parents who enter restaurants only to feed their hungry child immediately. Once Charlotte had eaten, we were able to eat our food and explain to Charlotte that we were en route to her first dance event. For a second, it seemed like Charlotte understood. She was giddy and giggly. Perhaps she mirrored our excitement, or maybe it was just the pretty lights on the ceiling.
The Hotel Room
We arrived to Swingin New England after sundown on Friday afternoon. We didn't know how Charlotte would like being in a hotel room with us. Our one other time away from home was challenging, so we had to be ready for anything.
Upon entering the hotel room, Charlotte's mood really blossomed. She was so happy to be on an adventure with mommy and daddy. We cuddled her on the bed and giggled with her while taking pictures. We were so happy that Charlotte was as excited as we were to be at a dance event as a family.
Entering the Ballroom
Imagine that you've spent almost 40% of your life entering ballrooms and always feeling a sense of wonder, amazement, excitement, and gratitude. Imagine that entering the ballroom was associated with many positive feelings of fun, friendship, and love. Now, imagine you enter that ballroom for the first time with your daughter.
We knew that many people would be excited to meet Charlotte, but for us, entering that ballroom was about exposing our child to a place of learning, respect, excitement, and good times. This was one of Charlotte's first introductions to a performing arts space, a place of great meaning for Anna and me.
Swingin New England Event and PIctures
Swingin New England is one of the best events in the New England area. Its event directors Neal Klein and Willow Colson-Wall create an environment that simply stated, feels safe. They are event directors that even as the years go by, still understand the nuanced approach to making everyone feel like family.
Swingin New England offers plenty of competitions, both Strictly Swings and Jack & Jills for all levels from Newcomer to Invitational. There is a coveted title for the same-sex Bookends division which often combines dancing with comedy and has succeeded because it encourages freedom of expression with little regulation which would inhibit creativity or risk taking. In the past 2 years, there has also been a side contest for best DJs, guys vs. gals. It makes for a great, fine-balance of serious yet fun-spirited competition.
And of course, Swingin New England has amazing late night social dancing. But this year, I'm not really able to speak directly about it. In the past, I would generally stay up dancing until about 5am enjoying all the groovy music that a DJ can play, this year my new daddy-duties brought me back to the room at a responsibly early 2am.
But what I lacked in late-night dancing, I made up for in photographs. You can see approximately 1000 pictures from almost every division.
Pictures of Swingin New England 2014
The All-Star Jack and Jill
I've been competing in the Invitational and All-Star division for over a decade. Of course, I have my fair share of wins and loses but this event was a little different. My daughter was in the house and it would be her first time seeing her daddy compete. I didn't want to disappoint.
It's probably crazy to think that a 5 month baby would remember or even care how her father placed in a Jack & Jill division, but there was something special about Charlotte watching me dance competitively for the first time. And then the stars lined up…twice!
I was lucky enough to be drawn two times to dance since there were more followers than leaders. With my first partner, Anne Fleming, we won first place. With my second partner, Yuna Davtayn, we received third place. And like a guy hitting the jackpot at a casino, my daughter, my 5 month old daughter, at her first competition ever, watched her father win both 1st and 3rd place in the All-Star Jack and Jill competition. It might be an accomplishment hard to top in a lifetime.
More Charlotte Stories
Perhaps meaningless to anyone else, but Anna and I had our first dance with Charlotte on the social dance floor on Sunday afternoon. Special thanks to Arjay Centeno for capturing some pictures and video.
(See the video)
Charlotte assisted in both a Hustle workshop and a West Coast Swing workshop and can be seen on the review video.
And Charlotte made a new friend in Riley Levetin, daughter of Marc and Stephanie Levetin.
The SwingShoes Group Placements
I'm always excited when members of our Connecticut SwingShoes community choose to compete. I know how hard it is and the emotional vulnerability that it creates. Here is how we did:
Jack & Jill - Novice
Daren Roeder - Prelims
Sandrine Menoret - Prelims
Jack & Jill - Intermediate
Andrew Hayden - 4th Place
Jack & Jill - All-Star
Erik Novoa - 1st Place & 3rd Place
Jack & Jill - Sophisticated
Daren Roeder - Prelims
Sandrine Menoret - Prelims
A Final Thought About Swingin New England
Many things go into making a successful dance event. There are so many components that it almost seems like it would be impossible to determine what makes one event any different from any other event. However I will say this: the event directors of Swingin' New England are the secret ingredient to the whole thing. Their gracious and caring sensitivity to the entire community makes them unique. At a time when many event directors are making business decisions based on the "flavor of the month", Neal and Willow have managed to "keep their family together" and maintain an impeccable reputation on the block.
Am I happy that Charlotte watched her father win the All-Star Jack & Jill? I'm ecstatic! But I'm proud to remember that Charlotte's first event was Swingin' New England.