Vermont Swing Dance Championships Review, Placements and Pictures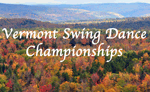 The Vermont Swing Dance Championships were a blast! From it's scenic vistas to it's cozy feel, this event is a friendly place to be as summer transitions to autumn. But don't be lulled by the crisp fall air, VT Swing has plenty of good competitions and late-night dancing for everyone.
The Drive to Vermont
I was very excited to drive to Vermont to a West Coast Swing event. The drive from Connecticut to Vermont takes you up Route 91, past the industrial city of Hartford, the Basketball Hall of Fame in Springfield, MA and into the lush green views of Vermont.
We entered the "Green Mountain State" through winding roads that were still shouldered by dark green leaves. However, autumn started to reveal itself with hints of burgundy.
We ascended the great Stratton mountain until we arrived to our dancing location.
The Inn at Stratton Mountain
The Inn at Stratton Mountain is part of a complex of buildings at the Stratton Mountain Resort, a place for winter-time skiing and activities. It was amazing to consider that this wintertime play land was our destination for a West Coast Swing event.
Perhaps, it is because I am mostly a non skier that I marveled at the "European town" quality of this mountain oasis.
The inn where the West Coast Swing event was being held was one of the wintertime lodges. I always felt like I should have had a ski-jacket and a hot-chocolate in hand - not because of cold temperatures, but simply to match the ambiance.
The main ballroom was a simple layout of a few tables, and a 500sf modest size dance floor. It was the perfect size for this event which focused on friendly New England and Canadian dancers and not just competitions.
Tent Party
One of the highlights of the event was the Saturday night tent party held at the base of the snow lift and main ski lodge. It featured a live band, "The Band of Love" and dinner under the big-top.
This 3 hour break from the traditional "stay in the ballroom for competitions" was perfect to enjoy the crisp Vermont air, eat a Vermont burger, have a beer with friends - and even dance to a live band.
Most importantly, the tent party showed that event directors Karen Graham and her son Scott were willing to take a chance and give attendees the ability to experience a taste of what Stratton Mountain offers. I enjoyed watching dancers, who are very comfortable with canned music, have to listen and adjust their dancing to a band. It's what West Coast Swing is all about.
Placements
This event is relatively new on the block. It has grown in size and scope every year. I once would have said that this event would be easy to get a competitive point - but not any longer. Being attended by most of the dancers from Vermont, Massachusetts, Connecticut and especially Canada (Toronto and Montreal), this a solid, regional event. It has divisions from Newcomer through All-Star and if you turn off your competitive edge for even a second, you won't make finals. Fortunately, some of our crew were able make it.
Here were the results from our SwingShoes West Coast Swing Group from Connecticut:
(please let me know if I need to add anyone)
Nov/Int Strictly Swing:
Andrew Hayden & Kristen Shaw - 5th Place
Adv - All-Start Strictly Swing:
Erik Novoa & Anna Novoa - 4th Place
Newcomer Jack & Jill:
Sandrine Menoret - 1st Alternate
Chloe Demetrius - Prelims
Novice Jack & Jill:
Daren Roeder & Kristen Shaw - 7th Place
Advanced Jack & Jill:
Anna Novoa - 3rd Place
The Drive Home
I usually don't even acknowledge the drive home from a West Coast Swing dance event. There are two reasons for that: first, I'm usually so tired my memory isn't working and two, who really cares about the drive home. But in this case there was an exception. Although, my body was just as tired as it is from any late-night dancing event, the Vermont scenery is just too extraordinary to miss.
One noticeable area that is both scenic and laced with current events are the cairn rock structures in Bondville at the base of Stratton Mountain.
These structures were so unique that Renee Nieto (one of our dancers) called me on the way to the event to tell me about them. Because of our haste to arrive, we were unable to see this impressive location before our arrival. But, we made a mental note that we must see this forest of cairns before we left Vermont.
Here is some of the local back-story on the Cairn Rock Formations at Bondville, VT.
The Pictures
Here are all the pictures of Vermont Swing Dance Championships 2013.