SwingShoes Entertainment LLC was formed in September of 2006 by Erik Novoa. It is a business entity to (a) teach people how to dance, (b) provide a fun environment in which to dance, (c) host guest instructors and DJs, and (d) introduce people to partner dance performances both as participants and as spectators.
The web site
Erik informally started this business in 2002 with his web site www.SwingShoes.net, where he began highlighting the accolades professional West Coast Swing and Hustle career. In this initial web site, Erik featured dance classes he taught in New York City, private lessons and dance events at which he was hired.
Going full time dance
It was not until 2005 that Erik left his daytime real estate job in New York City and moved to Connecticut where he gave his former moonlighting dance hobby 90 days to either make it or fail. Erik's first dance in Connecticut was held at Al's Place in Fairfield, a small dive bar in a great location. Fortunately, Erik's dance ability was already known in the Connecticut marketplace and numerous people attended that first dance that he held.
In addition to Erik's good reputation as a dancer, he was also a hard worker. He networked with other dancers in the Connecticut, made house calls to teach private lessons in CT and traveled to a 4 other states (NY, NJ, PA, MA) to teach private lessons each month.
Perfect timing
His timing could not have been more apropos either. In the end of 2006, the Terrace Club closed. The Terrace Club, located in Stamford, CT, had been the home for ballroom dancing and many forms of weekly partner dancing. When it closed, it created a dearth in the dance community. Erik filled the void by creating weekly Monday West Coast Swing nights at Al's Place.
The rest, as they say, is history.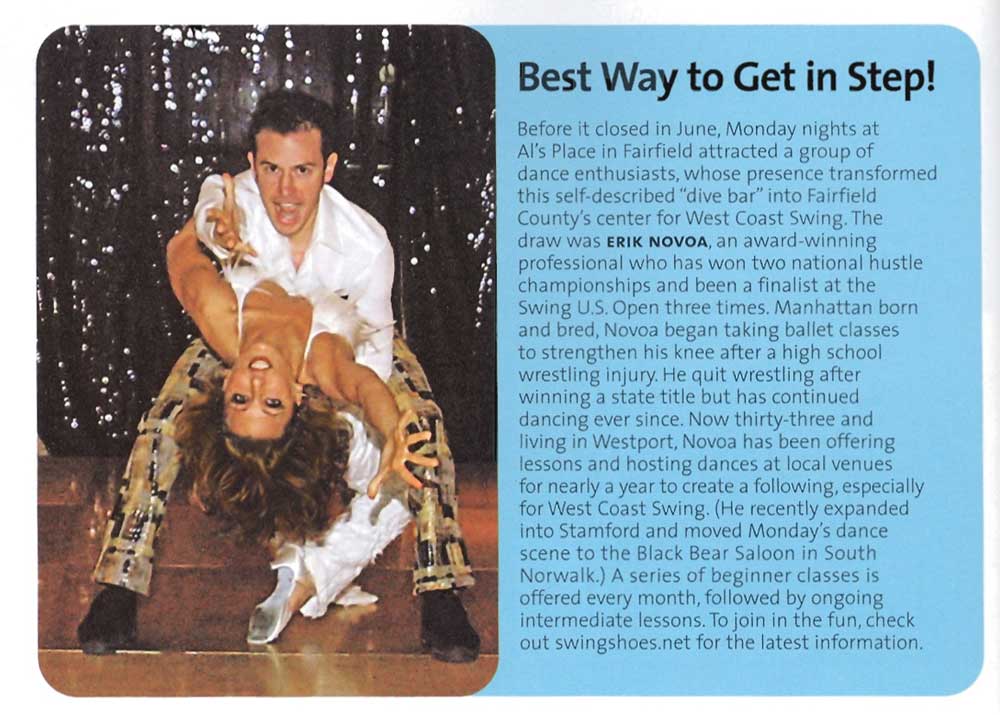 Erik Novoa and SwingShoes Entertainment has taken the southern Connecticut region by storm. In mid-2006, SwingShoes Entertainment won Moffly Publications' Best of the Gold Coast award for the Best Way to Get in Step. Since then, Erik has gone on to teach hundreds of people how to dance Hustle and West Coast Swing. He has built a dance community of people who not only dance together but have forged friendships off the dance floor.
The direct influence of SwingShoes Entertainment can be seen in people throughout Connecticut, in New York City (where Erik still hosts a monthly party), and throughout the Northeast region as one of the guest instructors for numerous dance events.
A time line of major events for SwingShoes Entertainment
Sept 2005 - West Coast Swing at Al's Place in Fairfield, CT
Jan 2006 - West Coast Swing weekly dance at Al's Place in Fairfield, CT
March 2006 - West Coast Swing at Cafe Botega in New Haven, CT
May 2006 - Dance Meets Arts (West Coast Swing, Hustle and Salsa) in Bridgeport, CT
May 2006 - Meet Anna at the Platinum Party in New York City
July 2006 - West Coast Swing at Black Bear Saloon in South Norwalk, CT
Aug 2006 - Best of the Gold Coast award winner.
Nov 2006 - Dance Meets Arts (West Coast Swing, Hustle and Salsa) in Bridgeport, CT
Sept 2006 - SwingShoes Entertainment is formed
March 2007 - West Coast Swing at The Field in Fairfield, CT
Aug 2007 - West Coast Swing at Dream Cafe in Norwalk, CT
Oct 2007 - West Coast Swing at The Palms in Stamford, CT
Jan 2008 - West Coast Swing at Rhythm in Norwalk, CT
May 2008 - WCS, Hustle, Salsa Fest in Stamford, CT
Jan 2009 - West Coast Swing at Dance Dimensions in Norwalk, CT
July 2010 - Choreographers' Showcase in Norwalk, CT
July 2011 - Choreographers' Showcase in Norwalk, CT
Aug 2011 - Showcase at Ailey Citigroup Theater in New York, NY
Dec 2012 - CT Dancing New Year's in Stamford, CT
Aug 2012 - Showcase at Ailey Citigroup Theater in New York, NY
Dec 2012 - Dancing New Year's Eve CT in Stamford, CT
Aug 2013 - Showcase at Ailey Citigroup Theater in New York, NY
Dec 2013 - Dancing New Year's Eve CT in Stamford, CT
Dec 2014 - Dancing New Year's Eve CT in Stamford, CT
Apr 2015 - New Country Day School West Coast Swing for Kids in Darien, CT
Dec 2015 - Dancing New Year's Eve CT in Stamford, CT
Dec 2016 - Dancing New Year's Eve CT in Stamford, CT
Dec 2017 - Dancing New Year's Eve CT in Stamford, CT
Dec 2018 - Dancing New Year's Eve CT in Stamford, CT
Feb 2019 - Sweetheart Ball at the Stepping Stones Children Museum in Norwalk, CT.
Feb 2019 - Valentine's Day West Coast Swing in Norwalk, CT
Sep 2019 - Performance of the International Rally West Coast Swing throughout Norwalk, CT
Oct 2019 - Workshops with Exenia Rocco in Norwalk, CT
Nov 2019 - Workshops in Danbury, CT
Dec 2019 - Dancing New Year's Eve CT in Stamford, CT
Dec 2020 - Dancing New Year's Eve CT in Norwalk, CT