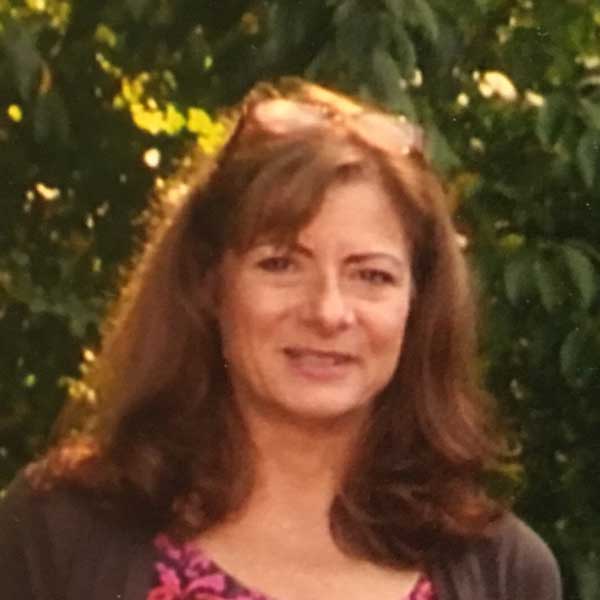 My father was an artist and my mother was an activist, I'm a little bit of both. I was born in Manhattan, where my family and I spent every Sunday at the Met exploring the endless galleries of armor and art. Later we moved to Fairfield where my siblings and I spent countless hours creating fantasy worlds hidden within the towering rhododendron plants in our back yard. At the age of five I was introduced to dance at Miss Comer's ballet classes in Bridgeport. Although my ballet potential was frequently questioned, my interest in tap dancing took off. What I lacked in talent I more than made up for with enthusiasm. The special mix of music, rhythm and music made me feel alive. The energy, excitement, not to mention all that noise, were intoxicating. But, after a bout of extremely ferocious tapping on plasterboard walls, my shoes were confiscated. Further forays into the world of dance were strongly discouraged.
When I was in third grade, something magical happened. My mother took me to see "Oliver", my first Broadway show, and I was hooked. I think it was the cockney accents that sealed the deal. I hurled myself head first into acting and singing classes. That's where I discovered my inner ham. I spent high school immersed in musical theatre and summers performing in shows on Cape Cod. This time dancing came back into my life in the form of choreography. Alas, my persistent lack of coordination meant a permanent assignment to the back row. After college I headed to New York City to pursue an acting career that led to stints as a telemarketer, a yearly gig as an elf at Macy's Santaland, some small parts in commercials and, eventually, the starring role of an independent movie about a homicidal dummy. I briefly revisited my interest in tap dancing when Macy's announced they were going to break the Guinness Book of World Records for the largest assembly of tap dancers. They gave thousands of us hats and t-shirts, taught us a short routine and off we went simultaneously tapping our way across 34th Street.
Eventually, fearing a future spent waiting tables, I entered the corporate world. My days were spent in the office watching lawyers throw tantrums. Evenings I attended classes in how to become an art therapist. And on weekends I hung out at the piano bars in Greenwich Village favored by actors and fans of Broadway musicals. But, after working as a paralegal on Wall Street for 22 years, motherhood and burnout forced me to, yet again, rethink my career options. That's when I decided that if I was going to work with people who acted like children, they might as well be children. I went to school at night for 5 years and earned a masters degree in elementary education. And that's when dancing came back into my life.
Teaching allowed me to reconnect with my passion for learning and creativity. It also gave me the confidence to try something transformational ever summer, like poetry writing in Provincetown, building mixed media wunderkammers in Truro and attending Pilobolus' dance camp in Kent. I even joined an all female chorus called The Treblemakers. After watching the first season of Dancing with the Stars, I decided I wanted to learn the quickstep. It was time to conquer my dance inferiority complex once and for all. I began taking ballroom lessons once a week, but quickly recognized that my waning memory was limiting my progress. The antidote, I soon realized, lay in the fact that my son and first graders remembered everything! After that I began to teach them the steps that I had learned the night before and together we practiced them all week. Young children need frequent movement breaks to help them focus and they loved learning all the different dances. When I wrote curriculum related jingles to accompany the steps, my students' literacy and math skills improved too. I remember two boys, we called them The Tango Boys, who took every opportunity they could to promenade across the classroom floor. Even today, when I run into former students, they often reminisce about our dancing.
As my dancing improved, I began attending more classes and social dances. I was introduced to a whole new world of music. I learned how to identify which dances fit particular pieces. I loved how each dance expressed a particular emotion and style. I could be jubilant, sultry, elegant, flirtatious, carefree, standoffish or sassy. Dancing isn't just about the steps. If you've been out of the social scene for a while, as many of us have during some point in our lives, it's like a noncommittal, two minute date: you meet someone new, listen to music, get some exercise, improve your coordination, tap into your intuitive side, learn to trust (or not) and then walk away (or not). As I ventured out more, I discovered that dancers were like a secret tribe. I walked around all day and never even knew they were there. Then I would go to a Saturday dance somewhere and suddenly there they were, the folks I'd just seen in the grocery store or library. Complete strangers who spoke the same language, knew the same steps and shared the same joy. Suddenly I had found my people. This klutzy duckling was slowly transforming into a confident swan.
When I retired from teaching, I decided to face more of my fears and start doing things that terrified me. As a teacher I was performing everyday in front of children, but socializing with adult peers was daunting for an introvert. That's when I decided to up the ante and perform in show cases. Despite my nerves, I had a blast cha-chaing across the stage to Meghan Trainor's "I'm a Bad Ass Woman". I also tried dance weekends in the Catskills and even spent 2 weeks on a dance cruise in the Caribbean.
It's been thirteen years since I first walked into Erik Novoa's West Coast Swing class and discovered a whole new kind of dancing. A sexy, syncopated, improvisational alternative to ballroom (and tap) that makes you feel like letting your hair down and flirting. (In the beginning I thought of it as east coast swing on acid.) The music is a contemporary mix of jazz, rock, pop, country, alternative and things I can't even name. As someone who has taught in the classroom I can appreciate good teaching. Erik is a caring, conscientious and creative teacher. One of the great things about his classes is the sense of community he inspires. The people are so friendly and supportive. Relationships extend beyond the four walls of the studio. Together we've gone dancing in Manhattan, attended national dance weekends like Swing Into Spring and participated in an international rally with fellow west coast enthusiasts from around the world. We support each other's personal accomplishments and help out in times of need. For me Erik's SwingShoes experience has been truly transformational and totally fun.