Dance Shoes for West Coast Swing & Hustle
For Men
A simple, men's standard oxford shoe (leather bottom) will work very well for various occasions and floors. However, as you get more serious in your dance life you'll want a real dance shoes. Below are some suggestions. All the dance shoes that are listed below are most conviently tried and purchased at your local dance event. Aside from dancing, buying shoes is one of the main reasons to go to an event.
This is a lycra, black "Tango" shoe with a 1" heel. I personally like this for both West Coast Swing and Hustle (performance and social dancing) because it allows full motion of the foot from ball-to-heel action. This shoe is also available in a 1 1/2' heel for more of a latin look. All of these shoes are suede bottom, which makes them feel perfect on perfect floors.
The lycra material gives it a very matte "black" look but the shoe can also be found in buck leather and patent leather.
Order from International Dance Shoes
Get them in NYC at World Tone (web site is never up to date - but the store is great)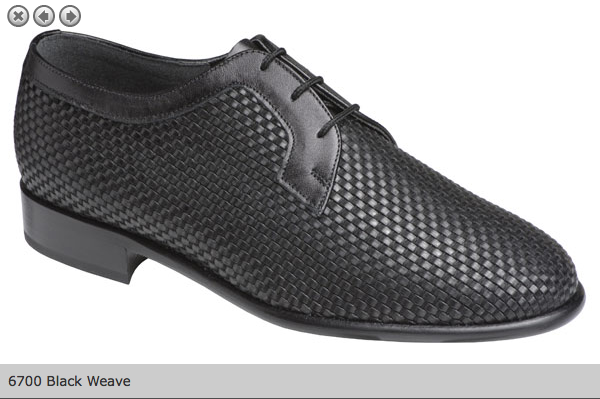 This is a leather weave with a leather bottom. perfect for street, bar or dance floor. The leather bottom is not as ideal as suede for the serious dancer, but these are an excellent "all weather" shoe.
Get them in NYC at World Tone (web site is never up to date - but the store is great)
---
For Women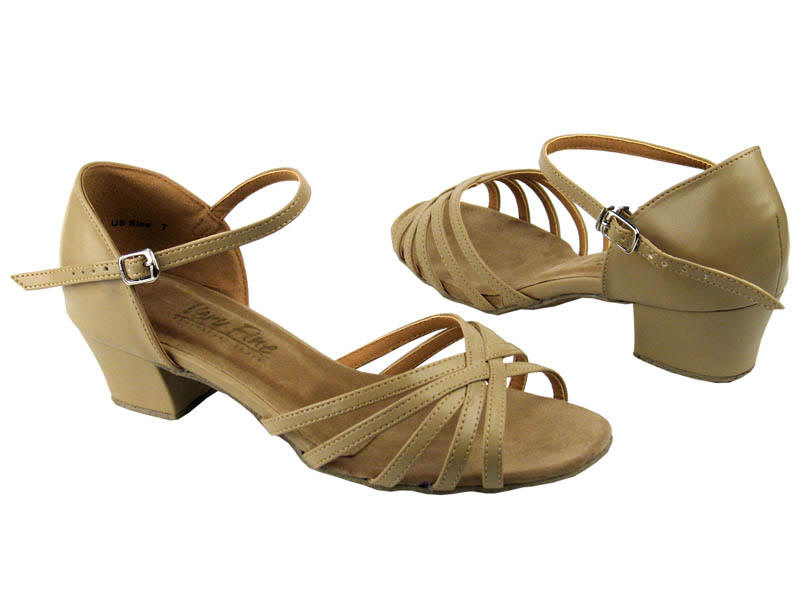 These shoes are the "gold standard" for follower shoes for West Coast Swing. They are used from newcomer through Champion level. Although they come a variety of colors, most followers have the beige/nude color in their bag.
Although they don't have they same look as a ballroom high-heel, they provide a small lift while still allowing the follower to "anchor" / settle her weight back.
The front straps also allow comfort not found in closed toe shoes.
Get them in NYC at World Tone (web site is never up to date - but the store is great) - Ask for "Bloch Annabella" or
"Ballroom Syllabus".
Many dancers get their shoes from Apple Dance Shoes West Coast Swing Shoes
for this specific shoes, "the size is half size smaller: So if you are an 8, order a 7.5".
Order the Bloch version
A dancer says, "My street size is a little snug, but I'm afraid the next size up would be too big. It has the quick release buckle (not the hook) and only comes in black or dark tan. These are nicer than the Apple dance shoes brand, in that they have a softer material on the inside of the straps. I used a promo code from here: http://www.retailmenot.com/view/onstagedancewear.com"
Order from Comfort Dance Shoes
For Hustle it is very common to dance in a latin heel. There are many different styles of the the straps and height of heel. This is based on individual taste and feel. Although some followers are able to social dance and perform in these shoes, many women have lower heels (such as those used in West Coast Swing) for social dancing and keep their fierce shoes for when it really counts (or for shorter intervals).
Although, these shoes might be the most challenging in which to dance, they are also the easiest to find:
---
Dance Sneakers
Every true dancer's secret weapon...a great pair of dance sneakers. There are times for performance shoes, a time for fun social shoes, and a time for sneakers. If you investing many hours on the dance floor for lessons, workshops and social dancing, then dance sneakers are a must.
They are different from regular sneakers in that their soles a made of either suede or a hard rubber that does not stick like regular rubber. They are a worthwhile investment, they last for a long time and will help prolong your dance journey. They are generally unisex but some stores have various styles to match all tastes and fashions.