Erik's History
I was born on June 3, 1973 in New York City to two performing artists. My mother was a ballet dancer with New York City Opera Ballet and my father was principal tenor with New York City Opera. Since my parents met during a production of Carmen at New York State Theater (Lincoln Center), some might say that I am a product of an opera.
My Mom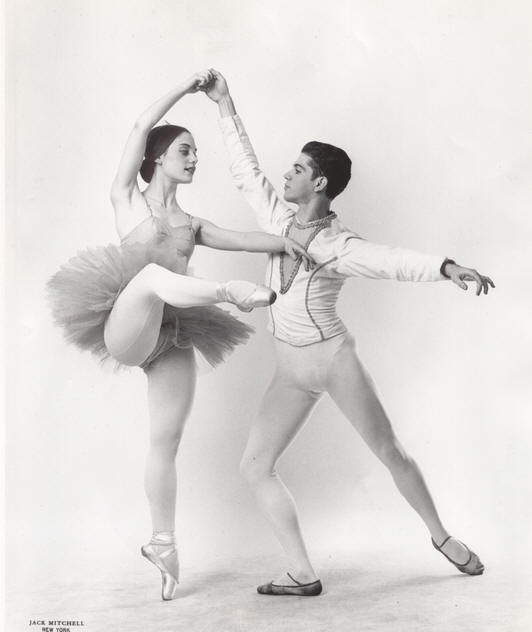 Audrey London (Novoa)
in front attitude
My mother started ballet classes as a child. She excelled very quickly and performed with The Metropolitan Opera Ballet, Les Grands Ballets Canadiens, Philadelphia Opera and New York City Opera Ballet.She took professional classes at the School of American Ballet (where Rudolf Nureyev and Fernando Bujones later studied).
My mother constantly exposed me to the arts. Ever since I was a child, she would bring me and my sister to see performances of the "The Nutcracker" by New York City Ballet and other classical works by American Ballet Theater. To this day, we still attend regular summer performances by ABT.
Audrey London (Novoa)
with 2nd Arabesque Arms
Going to the ballet with my family is very unique and slightly intimidating. We are highly particular about each nuance of a dancer. We cried together during breathless moments that are impossible to describe, and we have been disappointed when casts have not been up to par.
To this day, it's still tough for me to show my mother a work in progress. She is my toughest critic, but she is also my most true mentor. Although my mother has become a nationally recognized real estate broker, the discipline and truthful eye that the ballet forms have never left her. When I want to know the truth about my dancing, I ask my mom.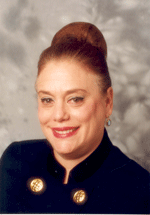 These days, my mom is a nationally recognized commercial real estate broker with ABS Partners Real Estate in NYC. She is one of the pioneer women in the real estate industry and has worked with some of the the most prestigious address and tenants in New York: 1 Park Ave, 60 Hudson Street, CBS and Sotheby's.
My mother was interviewed for an article on March 27, 2013 where she describes how her dance background contributed to her success as one of the few female real estate brokers in New York City.
My Dad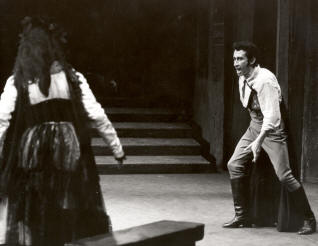 Salvador Novoa as Don Jose
in Carmen
My father started singing when he was a child being brought up in Mexico City. He originally wanted to try to imitate his favorite Mexican folk singer, Jorge Negrete. Realizing that imitating a trained singer was going to require some technique, my father took his first voice lesson.
My father liked singing and singing liked my father. Within a few years my father was beginning to sing with local opera companies including Bellas Artes (the equivalent to the Metropolitan Opera) of Mexico.
After placing 2nd at one of the international scholarship auditions, Salvador moved to the United States to begin singing with New York City Opera. At NYCO, he became nationally recognized for his interpretations of Don Jose is Carmen, Faust in Mefistofeles, The Duke in Rigoletto, Canio in I Pagliacci, Otello in Otello, and The Duke of Bomarzo in the opera Bomarzo.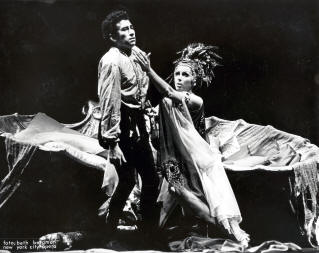 Salvador Novoa in Bomarzo
It was his role as the lead, The Duke of Bomarzo, in the modern Alberto Ginastera's opera Bomarzo that Salvador Novoa will forever be remembered...he was the only person to ever perform the role. The role was actually created by the composer with my father next to him. Although it was premiered in Washington DC in 1967, I was lucky enough to see it live in 1984 in Argentina. It was the role that landed him in the World Book Encyclopedia.
My mother also brought me to see my father perform in Mexico, Argentina and across the United States. I was fortunate enough to be on stage with my father at Art Park in Lewiston, NY during a production of "I Pagliacci".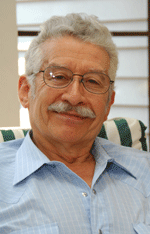 My father was probably the original motivating force in my artistic life. Even though most people know me as a dancer, I am probably more trained in singing. My parents tell me that my father used to sing to me while I was in the womb. There are also recordings of me singing and imitating my father's arias from when I was 3 years old. Unbeknownst to most, I love singing opera like my father. As a baritone, I have had the ultimate fulfillment of being able to sing duets from some of the Verdi operas my father used to perform.

My father retired in the mid 1980s and never stopped singing. He taught at BOCES, a cultural arts center in Long Island, and privately. His encouragement of both my singing and dancing never ceased. He passed away in 2021, and I feel his spirit with me all the time.
Me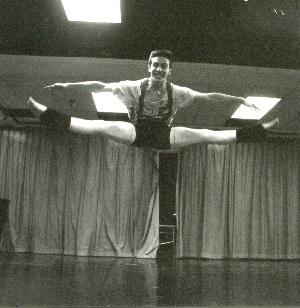 Erik at Dalton High School 1991
photo by Roger Resnicoff
I started dancing sometime during my junior high school days at The Dalton School in New York City. I was around 15 years old when I took my first formal dance class. What made me dance? Very simply stated, girls! I found that the only way that I could easily interact with the girls in my grade was at the school dances, which were held about once a month. I remember going to many Bar/Bat Mitzvahs where I felt most comfortable on the dance floor. Such social dancing built my confidence until I got to a turning point. I had injured my knee in a wrestling practice and felt that I should go to a formal dance class to help build up the strength and flexibility to help me recover faster. I chose to take a ballet class as my first steps into formal dance training.
Looking back, there were probably 3 reasons why I chose ballet. My mother was formerly a ballet dancer with New York City Opera Ballet and had exposed me to the ballet throughout my adolescence, I also watched my younger sister take ballet and I watched some of her classes and performances, and of course there was a blond ballet dancer that I had just met and with whom I was totally infatuated. Those three factors combined with the thought that I might be one of the only guys in a room full of girls in leotards almost pushed me into my first studio. Yet, one other factor contributed greatly....a low budget, high grossing 1987 movie called "Dirty Dancing". Of all the steps of the movie that I saw, there was one that I couldn't imitate, a double tour en l'air (a double turn in the air). Discovering that Patrick Swayze had formerly been a dancer with the Joffrey Ballet, and the Eliot Feld Ballet Company pushed my interest to the brink. I stepped into my first dance class.
I sadly found out that a "beginner" class at Steps on Broadway (74th and Broadway) was anything but a class for a true beginner. It was more like a toned down advanced intermediate class with dancers with 5-20 years of experience. I almost gave up and went home my first day at the barre. Well, typical with my personality, I didn't give up. I took a couple of more ballet classes until I couldn't really figure it out and I changed class.....I started taking jazz classes. It wasn't until another five years later before I would return my focus back to ballet.
Jazz classes were great! I learned many of the fundamentals of dance, ballet technique, industrial jazz used for MTV videos and lyrical dance. I was encouraged by my peers and I had an array of excellent teachers who kept me on track. I was always known for my sense of bravura and never-ending supply of energy.
Simultaneously at age 15, I also started dating my first serious girlfriend, a ballet dancer. Combined with my new love of dance, my relationship with my girlfriend solidified my dedication to dance. Dance became a language that I wanted to speak.
By the end of my high school career at Dalton High School, I had become one of the only male dancers in Dance Theater Workshop performances and an Undefeated State Champion Wrestler. That's right, remember that little injury that perked my interest to my first ballet class....not only did I heal quicker, but I went almost injury-free through high school wrestling. I thank dance for my quick speed, amazing flexibility (I had full splits on both sides and roll-throughs) and overall sense of "center". I even had a article written about me in "Newsday New York" starting with the question, "What do you get when you cross Jeff Blatnick with Mikhail Baryshnikov?" The answer was Erik Novoa. Fortunately, I lived up to the good press when I became one of Dalton's few undefeated, state champions.....thanks to dance.
Dance had started as a "tool" for me to physically move my body into the hearts of girls. Somehow, during the process, it became more, much more. It was a language. Not just a language to communicate to an audience, but an inner language to communicate with myself. There are times when dance has been the conduit between music and the an intangible feeling the music has created. I would even say that there have been times when my body, heart and mind have actually become one with an emotion or a sound. Every now and then.....someone sees it.....that's performing.