West Coast Swing and Hustle Dance Community in Connecticut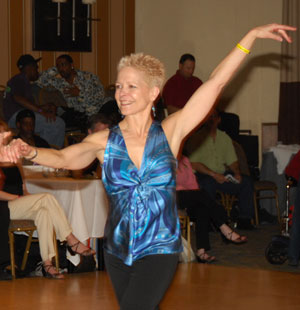 Renee has always danced.....Her mother almost gave birth to her in a taxicab after a night out dancing!! When she was growing up, it was an activity, not lessons, but the act of putting on records of her favorite groups and gettin' down, in the living room, at a house party, a school dance, a picnic...wherever!

School dances were the best for Renee. She says that she could never figure out why other kids were sitting down when the there was music playing. How was it possible for them to resist? She danced to every song!

She says, "Music moves me...I mean good old fashioned....James Brown...get down, get funky, heavy drums with lots of base". As for the Hustle....it wasn't just a dance back in the 70's...it was a lifestyle. Renee was not kidding when she says that Hustle was the reason she worked two jobs. She needed to have money to buy clothes, take the train and pay to get into the clubs in New York! It was the ultimate to spend all night dancing till the sun came up, literally.

Fast forward 30-plus years when Renee found out that there was someone teaching Hustle in Connecticut...that meant people were still "doing it" and she sure as heck wasn't going to be left out!! Renee and her husband, Bobby, signed up for class and dance parties with Erik Novoa and that led to social dancing at parties in NYC, then dance events and competitions all over the East coast, imagine that, full circle!

Renee says that dancing is special, "it's not really a sport, yet it can be competitive, if you want it to be". "You don't need any equipment and there are no age restrictions. It's a fun, easy way to be active, meet people and learn something new. Join us for Hustle on Tuesday nights! Let's go dancing"!!!
Placements:

Miami IHSC 2010 - J&J Interm 2nd place
MadJam 2010 - J&J Novice 1st place
Hustle Congress 2009 - J&J Novice 2nd place