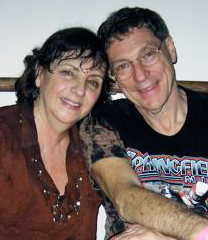 We met at the University of Chicago as undergraduates, are a longtime married couple, and best friends. Sandy is a Chicago native. Ed was born in New York, lived in New England as a child, and mainly grew up in Chicago. Neither of us has any training in dance. Ed plays guitar and sings at home, has been known in his younger years to perform. Sandy can't carry a tune. Both of us love music and dance of any kind.
We started social dancing years ago. Ed, who was working more than 60 hours a week for a major software company, needed something to help him relax. Sandy was (and is) working as a marketing consultant with a nice client list. Ed no longer had the time (or the knees) to keep letting off steam the way he had been for many years: off-road motorcycle endurance racing. We also wanted to do something together as a couple that didn't take hours to get to or bust the budget.
After trying the franchise Ballroom scene and found it just wasn't us in the long run, we happened upon West Coast Swing, New York Hustle, and Erik Novoa's SwingShoes classes, workshops, and community. We've followed Erik around since.
Fans of SwingShoes, we've been really happy dancing (and continuing to learn how to dance) West Coast Swing (and hustle) at SwingShoes especially. We've acquired and developed some skills that we're kind of proud doing (now quite rusty), met some super nice people in a very supportive dance community, and have gone to many fun events. And we've found that, we can go to most metropolitan areas in this country (and in some other countries) and easily find places to do this kind of dancing and participate in this kind of community.
We love Erik and his classes and workshops. SwingShoes is fun, positive, friendly, special, and offers outstanding teaching. Thank you, Erik.