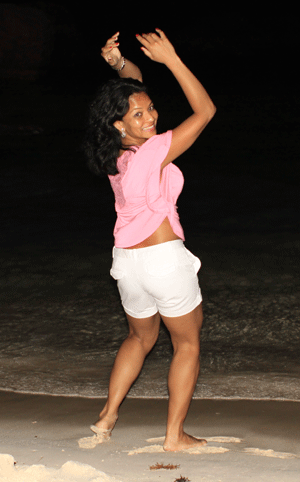 Growing up in Guyana provided many opportunities to experience the sheer joy of dance. A favourite memory is when my godfather would occasionally put on an LP, crank up the vacuum and would have all the kids dance with the movement of the vacuum while the area rug was being "hoovered" - crafty of him. My childhood was surrounded by dance, from the annual bacchanalia of the steel bands/street carnival, the indian dancing in movies and weddings, to the social graceful swaying of "two stepping" at the grown up parties, or on parents' toes.
"Formal" training began at uni, where I took several classes in the basics, and then applied them when I joined the ballroom team. I discovered and fell in love with samba from a fellow Brazilian student, and salsa from the Copa during a summer in the city. Although I witnessed West Coast Swing while living in LA, I did not participate as I was too distracted doing Lindy, East Coast Swing, Salsa and Samba. Besides this whole idea about starting with my right foot stepping forward threw me off. I found Erik through a weekend West Coast Swing workshop via a friend and got comfy with the whole right foot issue. I do not compete, but I do enjoy performing in shows.
When not dancing, I am usually found fetching around a way too heavy camera, being shadowed by an irish setter, or earning a living as a business systems analyst – the crap learned in e-school is actually being put to use.
When I hear music, I see shapes, mostly swirls and waves. For me, the stars align when there's a melding of bodies, movement and music, creating an ethereal and untouchable experience - la joie de vivre.