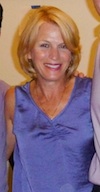 Growing up in Queens, New York, going out clubbing was the thing to do in the late 70's and 80's. I had done "THE HUSTLE" then and had a great time dancing and meeting many people. Going out dancing by myself back then was easy to do.
I learned about Erik's Hustle dance class in Norwalk, CT through the "Fairfield Citizen Newspaper". When I saw the ad, I was a widow for about 6 years and had always danced with my husband. We were always the first ones up at parties. When he died, I did not dance at all and thought this would be a way to go back to dancing so I joined January 2010. Dancing the hustle now is different than the way I originally learned. It is definitely a new experience and a fun one at that.

I am a New York City Hairstylist. I have 2 daughters 18 and 20. I enjoy being very active I ski, play tennis at least 2 times a week, bike , hike, and love my personal trainer, and now dancing is back on my list.