West Coast Swing in Harrison, NY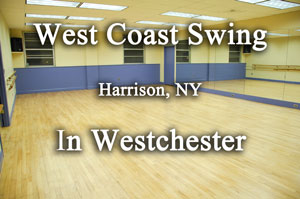 West Coast Swing weekly classes are coming to New York Dance in Harrison, NY.
Schedule
These beginner classes are for newcomers and dancers who would like to review their basic patterns. The first class is a 7:30pm beginner I class which will continue into an 8:30pm Beginner II class.
During the month, these classes will get progressively more challenging so it is best to start at the beginning of the month (Week 1).

* No partner is required but feel free to invite a friend.
No events for West Coast Swing in Harrison, NY