Every Thursday - West Coast Swing
Norwalk, CT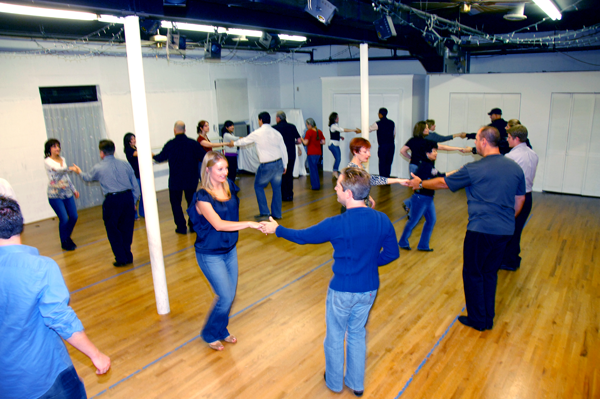 Although West Coast Swing can be traced back to the 1940's, its contemporary form is one of the most versitle partner dances. It is highly musically interpretive and can be done to many different styles of music. Unlike its bouncy counter-part, Lindy-Hop, West Coast Swing is smooth, sometimes funky, and always sexy.
* No partner required.
Schedule
West Coast Swing in Norwalk, CT
Times:
7:15pm: Arrival (Mingling, light eating & drinking)
7:30pm: Simultaneous Beg & Int class in separate rooms

Beginners: Student teachers will guide you through the basic steps & timing
*New series begins the 1st week of every month w Erik.
Intermediate (Simultaneous Class, except wk1*): Erik instructs refinement, technique and more moves.
*Week 1 will always be a combined Beginner class so that Newcomers can meet the entire community & Intermediates can re-enforce their basics.
8:30pm: Advanced: Erik creates a challenging Routine.

Erik will teach choreographs a new routine every month. Learning a routine helps learn sequences of movement and how they apply to music.
Dance etiquette about Dance Levels (see tip #8)
9:30-11pm: West Coast Swing Party

Music will be a combination of Swing, Blues, R&B, Pop, and Groovy late-night tunes.)
Pricing
Cost (cash only):
1 Lesson & Party: $20
add second class: add $5 (subject to level appropriateness)
Party only: $10
Discount Cards Available Here
Location, Directions & Parking
Location:
Dance Dimensions
3 Quincy Street (enter through covered parking area on Butler Street)
Norwalk, CT 06851
* Plugging this address into your GPS will put you on the opposite site of the building. Please use the Directions below.
Directions:
Dance Dimensions is conveniently located in the heart of Norwalk, CT, near the junction of I-95 and Route 7. From West Ave, at Getty Gas Station, turn on to Butler Street. Make first Left through black iron gates into Parking Area for 3 Quincy Street.
Parking